Announcements
International Participation: Membership in MCDC is limited to US companies or US-based affiliates of foreign companies. Foreign companies cannot gain membership due to MCDC's requirement that members obtain a DD2345 (military critical technical data agreement). However, foreign companies can be subcontractors (team members) on projects awarded through the Other Transaction Agreement (OTA) as long as they can meet the terms and conditions of the OTA. The MCDC member awarded the project is responsible for flowing the applicable requirements down to the foreign company.
MCDC/CWMD and govmates Webinar: Introduction to Matchmaking Services

Jan. 25th 1PM EST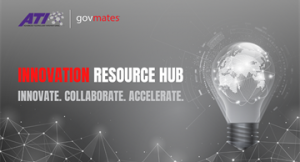 A free webinar for MCDC and CWMD Members where we'll be introducing the govmates team and providing quick ways in which you can get the most out of the Innovation Resource Hub to help facilitate teaming opportunities and business growth.
Members – Please see registration email or contact cwmd-mcdc-events@ati.org for more information.