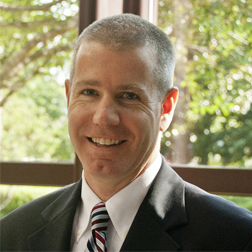 Mike Stebbins, Ph.D.
Advanced Technology International (ATI)
Dr. Stebbins is the Director of Operations with Advanced Technology International (ATI) and serves as Consortium Manager for the Medical CBRN Defense Consortium (MCDC) for which ATI serves as the Consortium Management Firm. Throughout his 9+ year tenure at ATI, Dr. Stebbins has served as the Director of Business Planning and Development where he led the capture and startup of the $70M, 5-year UI LABS-led Digital Manufacturing and Design Innovation Institute (DMDII), one of several National Network for Manufacturing Innovation (NNMI) institutes solicited by DoD. Dr. Stebbins also had significant roles on ATI-led programs looking at the epidemiological effects of exposure to the vanadium manufacturing process as well as demonstrating and validating the impact of copper on reducing levels of harmful microbes. Prior to ATI Dr. Stebbins worked in the industrial chemical, environmental testing and pharmaceuticals industries. Dr. Stebbins earned his Ph.D. in analytical chemistry from the University of Tennessee, Knoxville and his B.S. in chemistry from the College of Charleston.