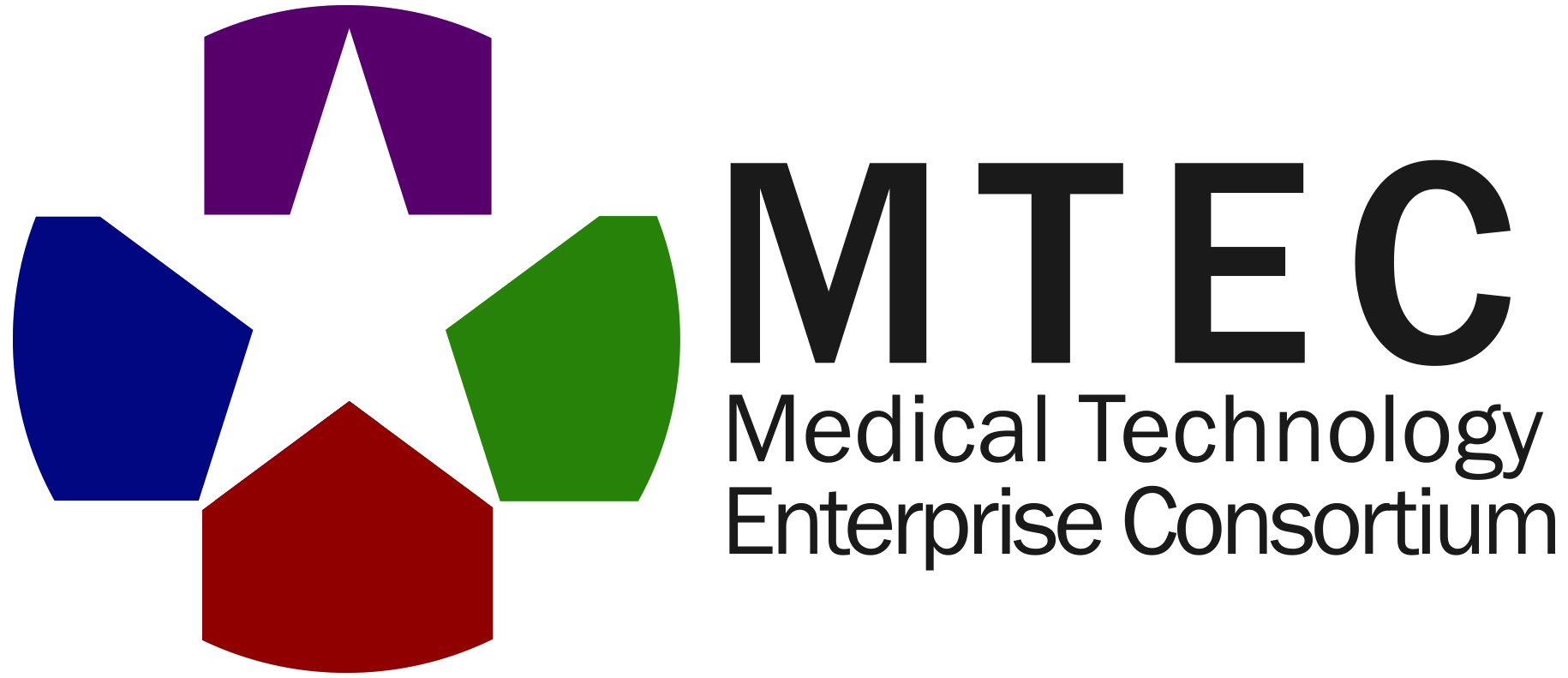 MTEC-20-09-COVID19 – Development of Treatments for COVID-19
The Medical Technology Enterprise Consortium (MTEC) is excited to post this announcement for a Request for Project Proposals (RPP) focused on the development of prototypes aimed to treat COVID-19 with the following focus area:
FOCUS AREA: Therapeutic(s) that can treat COVID-19.  Treatments with potential application to the prevention of COVID-19 infection are desired.  Therapeutics that can be administered in a non-hospital environment are desired.
PROGRAM BACKGROUND:
The pandemic COVID-19, a disease caused by a novel coronavirus, continues to spread worldwide. As of March 25, 414,467 confirmed cases of COVID-19 have been reported worldwide, with 18,433 deaths from the disease (www.who.int), the total number of COVID-19 cases in the United States is 55,453 and total number of deaths is 737 (www.cdc.gov). Currently, there are currently no FDA-approved vaccines or treatments for COVID-19.
SOLUTION REQUIREMENTS:
The goal of this RPP is to develop prototype countermeasures for the treatment of COVID-19.
The expected technology readiness level (TRL) at start of the period of performance (POP) is 3/4 and at the end of the POP is TRL6 [TRL definitions: https://mtec-sc.org/wp-content/uploads/2016/12/TRL-definitions.pdf]
The Offeror is expected to have, at the onset, a candidate therapeutic with non-clinical data (in vitro, tox, pre-clinical data, etc.) suggesting safety and/or efficacy
The Offeror should have demonstrated manufacturing feasibility of the candidate therapeutic
Offerors who have had at least one meeting with the FDA to discuss the regulatory strategy for their candidate(s) are preferred
Repurposing commercially available, approved products or products in clinical development for related indications with demonstrated safety in humans are preferred
Partnering with DoD investigators on pre-clinical testing in animal models is encouraged, where appropriate. [Note: Relationships with DoD laboratories must be brought forth as part of the Enhanced White Paper. MTEC members can access points of contact at Army laboratories on the members-only website.]
The expected deliverable at the end of the POP is a final technical report to support a Go/No go decision for the product to enter Phase II trials for the treatment of COVID-19 (see RPP for more details).
There is potential for award of one or more follow-on tasks based on the success of any resultant Research Project Awards (subject to change depending upon Government review of work completed). Note that any potential follow on work is expected to be awarded non-competitively to resultant project awardees:
Manufacturing of therapeutics
Further clinical testing of therapeutics
POTENTIAL FUNDING AVAILABILITY:
The U.S. Government (USG) Department of Defense (DoD) currently has available approximately $20 Million (M) of FY20 funds. Any potential follow-on funding is expected to be awarded non-competitively and negotiated based on outcomes, cost sharing, partner matching and estimates for additional study completion.
The anticipated Period of Performance (PoP) is up to 8 months. Dependent on the results and deliverables, additional time may be added to the period of performance for follow-on tasks.
It is expected that MTEC will make up to 5 awards to qualified teams to accomplish the statement of work.
ACQUISITION APPROACH:
The MTEC will implement the "Enhanced White Paper" contracting methodology for this RPP, which will be an accelerated approach to award. Because of the nature and urgency of the program's requirements, this streamlined approach is anticipated to be a better means to highlight company methodologies and skills required to address the technical and transition requirements. The Enhanced White Paper process requires extremely quick turnaround times by Offerors. MTEC anticipates that awards will be issued within 6 weeks of the RPP release date.  For more information regarding the requirements of the Enhanced White Paper process and template, refer to the RPP.
MTEC MEMBER TEAMING:
While teaming is not required for this effort, Offerors are encouraged to consider teaming during the proposal preparation period (prior to proposal submission) if they cannot address the full scope of technical requirements of the RPP or otherwise believe a team may be beneficial to the Government. MTEC members are encouraged to use the MTEC Database Collaboration Tool to help identify potential teaming partners among other MTEC members. The Database Collaboration Tool provides a quick and easy way to search the membership for specific technology capabilities, collaboration interest, core business areas/focus, R&D highlights/projects, and technical expertise. Contact information for each organization is provided as part of the member profile in the collaboration database tool to foster follow-up conversations between members as needed.
The Collaboration Database Tool can be accessed via the "MTEC Profiles Site" tab on the MTEC members-only website.
 MTEC:
The MTEC mission is to assist the U.S. Army Medical Research and Development Command (USAMRDC) by providing cutting-edge technologies and supporting life cycle management to transition medical solutions to industry that protect, treat, and optimize Warfighters' health and performance across the full spectrum of military operations. MTEC is a biomedical technology consortium collaborating with multiple government agencies under a 10-year renewable Other Transaction Agreement (OTA), Agreement No. W81XWH-15-9-0001, with the U.S. Army Medical Research Acquisition Activity (USAMRAA). MTEC is currently recruiting a broad and diverse membership that includes representatives from large businesses, small businesses, "nontraditional" defense contractors, academic research institutions and not-for-profit organizations.
ADMINISTRATIVE INFORMATION:
Enhanced White Papers are due no later than April 8, 2020 at 12:00pm Eastern Time. Due to the critical and urgent nature of the technical topic area, MTEC membership is NOT required for the submission of an Enhanced White Paper in response to this MTEC RPP. However, membership will be required for Offerors recommended for award. For information on how to join MTEC, please visit http://mtec-sc.org/how-to-join
POINTS OF CONTACT:
For inquiries regarding this RPP, please direct your correspondence to the following contacts:
Technical and membership questions – Dr. Lauren Palestrini, MTEC Director of Research, palestrini@officer.mtec-sc.org
Programmatic questions – Ms. Kathy Zolman, MTEC Director of Program Operations, zolman@ati.org
MTEC Member Collaboration Database Tool – Ms. Melissa Sanchez, MTEC Program Administrator, sanchez@ati.org
To view this solicitation, click here.